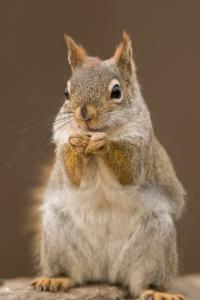 Squirrels are some of the most common critters in backyards across Greenville, SC and the entire United States. But when squirrels enter your attic, crawlspace, or eaves, they can be an annoying nuisance. When these common visitors to your yard enter your home, reach out to A+ Wildlife Control in Greenville, SC for humane squirrel removal and control services.
Why Do Squirrels Enter a Home?
Normally seen hopping along tree branches while collecting acorns, a squirrel might enter a home during cold weather to build a nest in your attic or cozy crawlspace. While the squirrels are only looking for a place to stay warm, the noise of scurrying feet, not to mention the droppings left behind can become a real problem.
Damage Caused by Squirrels
Squirrels are generally non-aggressive towards humans but are still very capable of surprising levels of destruction to home and property. From holes in your garden and yard where squirrels dig up their buried food supply, to chewed or scratched bark, birdfeeders, support beams and even walls. They have even been known to chew on electrical wires, or to cause electrical shorts by walking along power lines.
How to Remove Squirrels
The best remedy for a squirrel problem is to make your home or yard less desirable for them. Make sure points of entry are sealed and fix any broken windows or barriers to crawl spaces. Check chimneys and make sure they are sealed with a wire covering if possible too.
If a squirrel has taken up residence in your home, trapping and removal by a professional may be required. Since squirrels may be considered game in some areas, trapping requires special permits. In addition, due to squirrels being carriers of other pests and diseases, it's best to leave squirrel removal and exclusion to the professionals and not treat it as a do-it-yourself job.
The professionals at A+ Wildlife Control have been providing expert squirrel removal services to our customers in Greenville, SC and the surrounding areas since 2010. Contact us today to find out what the best solution to your squirrel problem might be. We're happy to answer any questions and point you in the right direction.