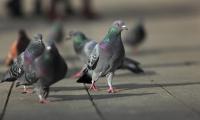 Greenville, SC and the surrounding areas are home to a host of unique, native bird species and the region can be a birdwatcher's paradise. But even birds can become a nuisance when large flocks of birds or particularly noisy or destructive types of birds take up residence on your property.
When Does a Bird Problem Become Dangerous?
Bird droppings are highly corrosive and can cause damage to vehicles, structures, and property. They can also create a risk of liability at your home or place of business as droppings are slippery and can cause accidents. In addition, birds and their feathers are notoriously filthy, and frequently bring along with them parasites like ticks and mites.
Pigeons, in particular, can carry a host of diseases that can infect humans. These range from encephalitis, histoplasmosis, toxoplasmosis, pseudo-tuberculosis, salmonella, and others. In short, a bird problem at your home is not something to take lightly.
Bird Removal Methods
Bird removal methods vary by breed and what works for one may not be effective for another. Most birds are easily able to adapt once they've realized that some of the less effective methods like statues of predators or scarecrows are in fact, false threats. Other common methods of controlling a bird problem on your property can include physical deterrents like netting or spikes that prevent birds from roosting, or trapping and removal, among others.
Contact Us for a Custom Solution
If unwelcome birds are roosting on or around your property in Greenville, SC and the surrounding areas, the bird control experts at A+ Wildlife Control can help. Contact us today to learn more about the most effective solution for your particular bird problem. We're happy to answer any questions and to discuss the solutions available.