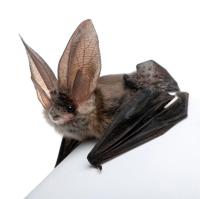 If you suspect that your home in Greenville, SC may be hosting a colony of bats no matter how big or small, you'll need to call in professionals with plenty of experience in bat control. Removing bats from your home is not a do-it-yourself project, and there are both legal and health-related issues to consider.
While a small number of bats are unlikely to cause great damage, there's no denying that a full-fledged bat infestation can be smelly, noisy, and downright creepy. Not only can bats leave a buildup of droppings, called guano, or urine stains on your building, but bats can also carry dangerous diseases like rabies or histoplasmosis.
How to Tell if You Have Bats in Your Home
The rustling of wings or squeaking in your chimney, attic, or walls can be among the first indications that your house has become home to a group of bats. You may also notice bats leaving your home at dusk, or even come home to find one or more flying around your living room.
Did You Know:
It's illegal to harm or fumigate bats to get rid of them or to seal bats out of your home when there are babies in the roost
Bats live a very long time, and colonies grow larger each and every year. What starts as a small bat problem can escalate quickly to a large infestation.
Depending on the weather, bats may leave during colder months but will return to the same roost next year. If left unchecked, bat colonies will stay in the same place forever.
Methods of Bat Removal and Control
The first step in removing bats from your home is to inspect your home to determine the bat's entry point. If the colony is large enough, this point of your home will likely be marked by urine or guano stains, or you may even catch them leaving at dusk for their nightly hunt.
Once the extent of the infestation has been determined, the most effective way to solve your bat problem is to seal off their entry point. Other methods include netting or trapping. Regardless of the method chosen, timing and execution are critical in order to ensure a safe, legal, and effective remedy to a bat infestation in your home.
A+ Wildlife Control offers years of experience in professional, humane bat removal and control to our customers in Greenville, SC and the surrounding areas. Contact us today if you suspect that you might be the unwilling host of a colony of bats, and we'll answer any questions you might have as well as discuss your options for taking your home back from these annoying, uninvited guests.