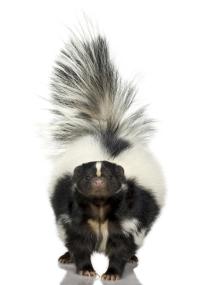 There's no mistaking a skunk thanks to their distinctive black and white markings and their equally distinctive stink.
When startled, skunks release their famous sulfuric spray, with an odor that can be detected for miles and can be difficult to remove from whatever it comes in contact with. Although skunks may be beneficial to have around since they feed on harmful pests, it is for this reason that most of our customers in Greenville, SC and the surrounding areas call us for skunk removal and control services.
Signs of a Skunk Problem
Skunks cause damage to your property by burrowing underneath your home, digging holes in your garden as they search for insects, raiding your trash bins, and eating fruits and berries from your bushes and trees. If you notice any of these signs, it may be time to call in the experts.
Small, cone-shaped holes in your lawn and garden
Tracks with five toe marks on each foot and visible claw marks.
Foul, skunk odor
Eggs or other small fowl from chicken coops or poultry houses
How to Remove Skunks
An ounce of prevention is worth a pound of cure, and the same can be said when dealing with animals like skunks. Most skunks are attracted to your property thanks to the prevalence of food sources and potential burrow locations. Make your property less than prime real estate by keeping fallen leaves and berries off your lawn, securing your trashcans, and by eliminating access to woodpiles, sheds, barns, and other areas where skunks might like to reside.
Once a skunk problem exists, removal and exclusion is the best method of controlling skunks on your property. It's no surprise that this task is best left to the professionals. A professional trained in humane skunk removal and control can both remove skunks from your property with minimal damage (and smell) while not harming the animal and preventing it from returning.
A+ Wildlife Control offers humane, eco-friendly skunk control services to our customers in Greenville, SC and the surrounding areas. Contact us today to find out if you're in need of skunk removal, and what the best solution may be for your particular needs.