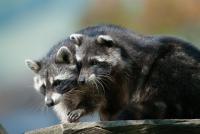 Raccoons may be cute, but these little critters can not only be a nuisance, they can be dangerous for you and your pets, and cause unnecessary fear and stress.
If you're currently playing host to one of these little bandits at your home in Greenville, SC or the surrounding areas, don't be fooled by their cat-sized cuteness. Raccoons are anything but cuddly and raccoon removal and control should only be handled by a trained professional.
Are Raccoons Dangerous to Humans?
Raccoons are widely feared as frequent carriers of rabies. Fortunately, most raccoons would rather avoid a confrontation with you and your family and instances of raccoons attacking humans are few and far between. Raccoons can pose serious health risks to humans, however. While cases of humans contracting rabies from a raccoon are rare, there are other dangers to look out for. Raccoon droppings can be particularly problematic as they can spread diseases like Leptospirosis, Salmonella and raccoon roundworm. In fact, an area that has come into contact with raccoon feces can remain infected for years if not properly sanitized.
Are Raccoons Dangerous to Pets?
Raccoons also pose a risk to your pets, especially your cats and small dogs. Being closer in size, they may defend themselves by attacking if they feel threatened by your cat. Curious cats may also chase or corner a raccoon, and this may not end well for your pet as a raccoon can easily harm or kill a cat. In addition, raccoon feces can carry diseases which can be serious, if not fatal for your pet.
How to Remove Raccoons
It is perhaps for the safety reasons that the only safe way to deal with an unwelcome raccoon is to trust a professional who is knowledgeable and takes the proper precautions to protect themselves, you, your family, and your pets. A professional can humanely trap and exclude raccoons from your property and can assist with clean-up of dangerous droppings, urine, and other damage.
A+ Wildlife Removal in Greenville, SC has been the area's trusted raccoon control and removal expert since 2010. Contact us today to inquire about how we can help you enjoy a pest-free life.