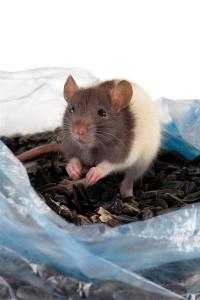 At A+ Wildlife Control, one of the most frequent requests we receive from our customers in Greenville, SC and the surrounding areas is for rodent removal and control.
Almost everyone at one point in their life has been startled by a rat or mouse happily munching away at their food in the pantry. Maybe you've even discovered evidence of their presence in droppings around the home. No matter how you discovered that your house has become home to a group of rodents, it's safe to say that you'd like them removed quickly, and for good.
Damage Caused by Rodents
On a global scale, there is no doubt that rodents like rats are some of the most destructive pests the world has known. They are responsible for major epidemics like the Black Death in Europe and are even responsible for destroying a large percent of the world's food supply each year.
Rodents are no less destructive in the modern home. They are known to chew through wires, burrow, destroy food and property, and generally wreak havoc. They can spread diseases like Leptospirosis and rat bite fever, and contaminate your food through droppings and urine.
How to Stop a Rodent Infestation
Methods for removing rodents from your home vary in efficacy and depend largely on the nature of the infestation. For a very large rodent population, methods beyond spring traps and bait will likely be necessary.
Even if you've only spotted a single rat or mouse in your home, you'll need to treat the problem as if a large population of rats was currently living in your home. It is the only surefire way to prevent an even bigger problem down the road.
An Eco-Friendly Rodent Control Solution
A+ Wildlife Control has been solving our customer's rat problems in the Greenville, SC and the surrounding areas since 2010. We are an eco-friendly rodent control company, and we offer state-of-the-art rodent removal services. Contact us today to inquire about safe, humane, eco-friendly rodent control in your home or office.